After completing this course, you will gain the skills and confidence needed to deliver impactful stories with data.
The course is designed for data analysts/scientists who are passionate about data storytelling that may find it challenging to develop and present impactful stories with data that are well-received by their audience.
My name is Kate Strachnyi and I will be your instructor for this course - I'm really looking forward to sharing my knowledge of data storytelling with you!
Course Outline
Importance of data storytelling
Data storytelling: Data storytelling is the practice of building a narrative around a set of data and its accompanying visualizations to help convey the meaning of that data in an impactful way.
Need for data storytelling skills: Many organizations have focused on developing knowledgeable data analysts but not many have equipped their staff with the ability to communicate the insight they generate effectively to decision-makers. Data storytelling helps you unlock insights trapped in your data.
Types of data visualization: Data visualization can be used for exploring data (exploratory data visualization) or for explaining data (explanatory data visualization). The focus will be on explanatory data visualization used to convey the outcome of data analysis to the audience.
Data points: Each data point in our database, file, etc. tells a story. When combined with other data points and/or additional data sources, we are able to gather more insights and tell a more impactful story.
Components of an impactful data story
Impactful: It is important to tell an impactful data story. If the data story is worth telling, it's worth telling it well!
Focus: Tell one story at a time; focus the message to uncover a specific insight.
Simple: Simple is better than complex – avoid complicated visuals.
Lingo: Speak the language of the audience – if the audience isn't data-savvy – avoid technical terms.
Sticky: Make the story 'sticky' – something that's memorable.
Titles: Don't bury the lead (main point) – produce the narrative first; translate those into titles of charts to show the data.
Details: Stay high-level in telling the story and have details in the back pocket for reference.
Ethics: Consider ethical implications; avoid misleading with data. Make sure the story is informative and true (use factual and credible sources).
Data Storytelling Process
Audience & intent: Define your audience and intent
Insights: Uncover the most important insights
Narrative & visualization: Craft a narrative and design data visualization
Present: Communicate the data story
Visual best practices
Power of data visualization: Data visualization provides opportunities to uncover patterns, correlations, and outliers, as well as communicates key insights to stakeholders and enable data-driven decision making.
Software: Avoid placing excessive focus on the tools or software – draw your data visualization sketches on paper first to avoid getting attached.
Chart selection: Select the right chart or graph to represent the data.
Reduce clutter: Minimize the data-ink ratio and reduce cognitive load.
Simple: Avoid data visualization art and use standard design patterns that the audience is familiar with.
Color: Begin with grayscale mode and use color intentionally. Consider colorblindness and accessibility.
Focus: Leverage visual attributes to focus attention (Gestalt Principles).
Text: Use consistent font type and proper text sizing / contrast.
Presenting your data story
Types of stories: Tailor the presentation / data story to the medium/ format of delivery (live presentation, static email, interactive dashboards, etc.) – include sufficient guidance on 'how things work'. 
Practice: Tell the story out loud to a friend or even a video camera to practice.
Focus: If you find yourself saying 'ignore this' or 'focus on that' then go back to design phase and use pre attentive attributes (bold text, colors, etc.,) to drive the focus.
Animation: Consider using animations to make the data story more interactive.
Feedback: Request feedback from stakeholders and colleagues to improve data storytelling skills.
Examples: Review impactful data stories for inspiration and keep track of lessons learned from your own experience. Observe examples of data without stories and vice versa.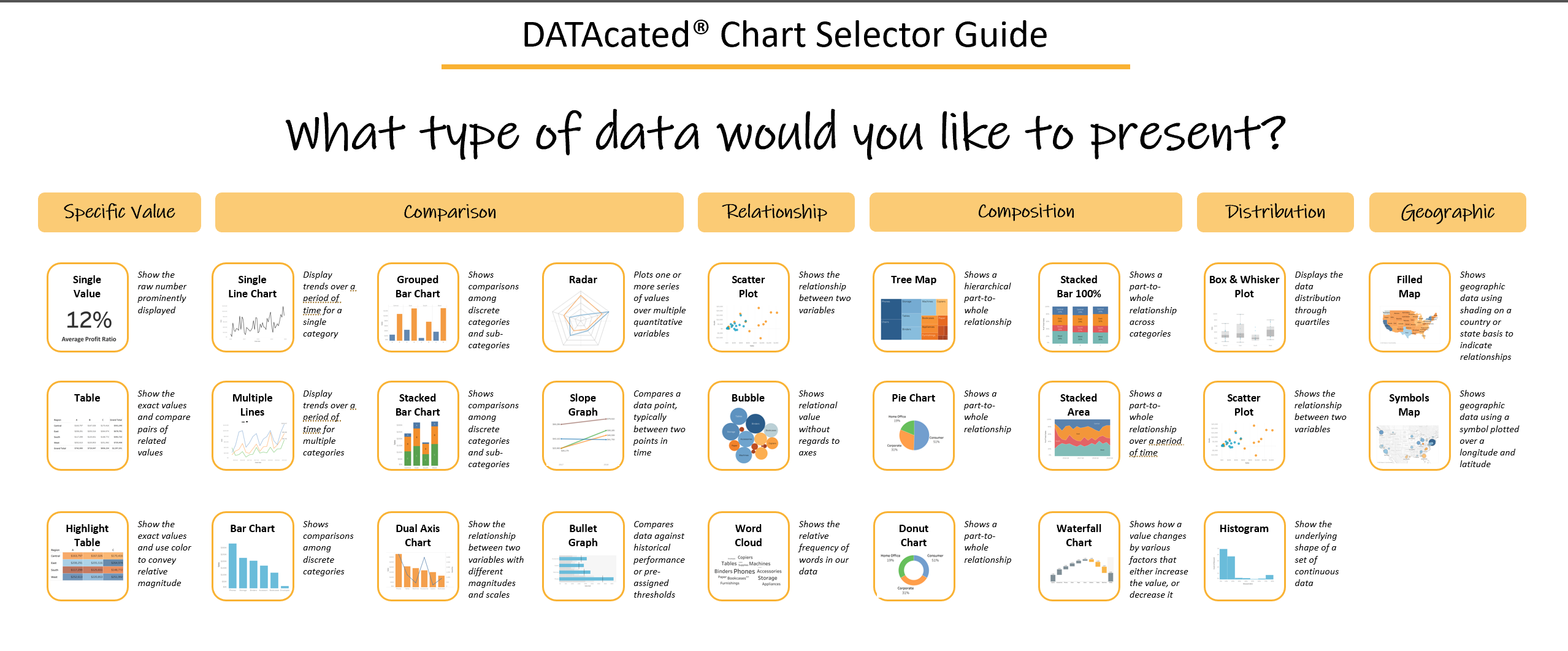 Free DATAcated Chart Selector Guide
Selecting the right chart to represent your data is a critical step in the data storytelling process. Each data story is unique, so there isn't a a clear rule for choosing the best presentation (chart or graph). However, some are better suited than others to help you achieve your goals.
The DATAcated Chart Selector Guide was developed to help data analysts / data scientists select the right chart for their data. The Guide does not include every type of chart out there but is a great starting point!​
Frequently Asked Questions (FAQs)


Who is the course for? The course is for data analysts / data scientists that work with data and want to improve their data storytelling skills.
Is there a certificate? A certificate of completion will be issued upon successfully completing the course.
Is there a method of communicating with the instructor? Yes, there is a Slack group in which you can ask questions. In this group you can interact with both the instructor and the other participants.
How long do I have to complete a DATAcated Academy course? Courses are entirely on-demand, which means you can learn at your own pace. You can begin the course whenever you like, and there are no deadlines to complete it.
What language is the content delivered in? English
What is the refund policy? We want you to be satisfied, so all courses purchased on DATAcated Academy can be refunded within 30 days. For whatever reason, if you are unhappy with a course, you can request a refund. 
Still have questions? If you have any other questions about DATAcated Academy, you can contact support by clicking here.